ALBUM : Tam Dee – All I Need Is Christ (Full Album)
ALBUM : Tam Dee – All I Need Is Christ (Album)
After 6 Years of Recording, talented Zambian artiste – Tam Dee finally drops his body of work which is titled – "All I Need Is Christ".
He featured a couple of great names in the game, the likes of Nova, Neo, Chilu, Treck and More.
CHECK TRACKLIST BELOW!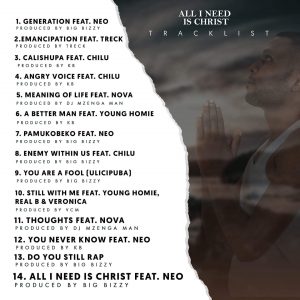 The album is available for sale on Mvesesani at only K100.
Tags :
Album
All I Need Is Christ
Big Bizzy
Chilu
Dj Mzenga Man
KB
Neo
Nova
Tam Dee